YD2513-RD UV FLATBED INKJET PRINTER with factory price-Tianfuchenglai-57
Description
YD2513 UV FLATBED INKJET PRINTER
YD2513 UV FLATBED INKJET PRINTER

YD2513 UV FLATBED INKJET PRINTING MACHINE
Print size
2500×1300mm
Print head
Ricoh-Gen4 grey level piezo print head
Prit resolution
600×1200dpi
Print speed
4Pass,25M'/h; 6Pass,17M/h;8Pass,13M/h
Print mode
unidirectional and bidirectional
Ink color
Lm、Lc、Y、M、C、K(Optional)
Number of head
4、5、6、7、8(Optional)
Ink type
Environmental UV curing ink(NO VOC)
Special ink
UV white ink or UV varnish
Materlal thickness
Up to 340mm
Material type
Rigid and flexible material
Material
GJass,acryic,wood,ceramic,metal. PvC,corrugated board,pasticnotehaok,wine box etc.
Software Interface
PhotoPrint, Seeget
Input format
Adobe Postscript Level3、PDF、 JPEG、TIFF、EPS、Al
Power requirement
220VIAC(10%),50/60 Hz;4.8KW
Printer weight
1200KG
Printer size
3620 mm[L]×2080mm [W]× 1200mm[H]
Working environment
Separate, litle sunlight,ventilated workshop.Temperature:189 C-30℃C (64°F~86°F)Humidity:30%~70%(Non-condensing Ventilation equipment: Suggest Overhead exhaustfan.displacement 600 cfm
YD2513-RA UV HEIGHTENING FLATBED INKJET PRINTER
Ricoh Gen4 industrial print head
Adopting new 4-8 grey level Gen4 internalheating industrial micro Pliezo print head, ignition frequency 30kHz,variable droplet printing(7pl-35pl),can easily print high resolution images of 600x1200 dpi. Ricoh Gen4 print head is anti-corrosive and long lifetime.working performance is stable.
what's more, it is cost effective and suitable for long-time working,24 hours running. If maintain in good condition, the iaial headJtw/ be a huge adveli age
YD2513-RA UV flatbed orintergdfonN家i5Gea4 ind life time of print head can reach about 5 years. that apply in outdoor adyeitisina=e
Automatic materials thickness measurement w
Automatically measure the thickness of materials. Precise.time and labor saving. Original l M
Original heightening patented technology in the world,
Which can print on any media with the thickness within 340mm. Water-cooling LED-UV
Print notebook edqe
High powerwater coling UV-LED lamp,impressive curingeffect.Moreenergy savingthan mercury lamp lifetime is more than 30 000 houUs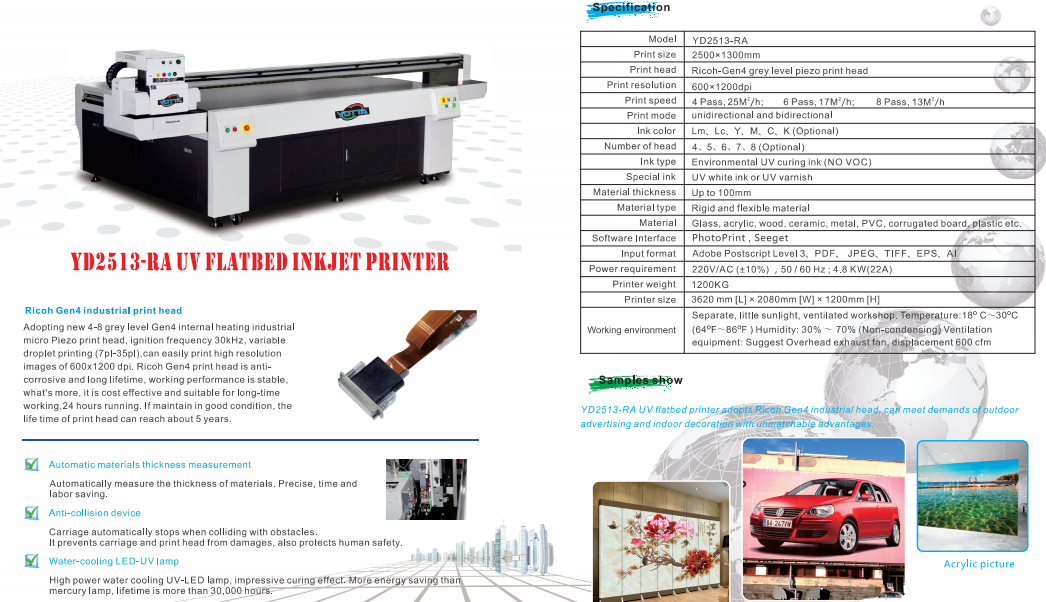 YD2513 UV FLATBED INKJET PRINTER


Your cart is currently empty.