VMC1270 high-speed machining center with AC servo technology stepless speed change of the spindle-tianfuchenglai112
Description
VMC1270 high-speed machining center
Model: VMC1270 vertical machining center
(meet medium-speed drilling, rigid tapping and precision parts milling)
Important features of equipment:
* The main spare parts are the best domestic or international brands
* The structure of the equipment is designed by the former senior engineer of the International Machine Tool Group for more stability
* Adopt standard machining center machine design concept, thin arm multi-rib structure, equipment rigidity
* Fast processing speed, large stroke, better than products of the same level
* The feed system adopts ultra-wide imported linear rails, and the castings are finely ground, which greatly reduces crawling, and can complete precise movement and positioning.
Main introduction of VMC1270 machining center:
1. Machine tool structure
The design and manufacture of the machine tool conforms to the six basic parts of the ISO international standard machine tool (base, saddle, worktable, column, spindle head, ATC fixing frame). Optimized design on the structure, with high static stiffness and dynamic resistance to deformation.
The spindle has a high rigidity structure, which can be used for high-precision cutting. The spindle motor adopts AC servo technology, which can realize the stepless speed change of the spindle. The pre-stretched structure makes the three axes have better dynamic stiffness and resistance to thermal deformation. The three-axis guide rail adopts imported linear guide rails and sliders, which has high stability of processing accuracy, fast and efficient three-axis ball screw and drive servo motor direct transmission. No accumulated error of transmission, high repeatability and high positioning accuracy. Automatic tool change structure, rapid tool change, smooth movement. All parts of the machine tool and various measurement units all conform to the SI standard.
2. Machine tool precision standards
JB / T 8771.2-1998 "Vertical machining center geometric accuracy inspection"
JB / T8771.4-1998 "Verification of linear positioning accuracy and repeated positioning accuracy of machining center"
JB / T8771.7-1998 "Machining center precision inspection of precision machining test pieces"
JB / T 8801-1998 "Machining center technical conditions"
Uniaxial positioning: ± 0.005mm (500mm)
Repeat positioning accuracy: ± 0.003mm (300mm) repeated more than ten times)
3. Feeding system
AC servo motor: complete system
Cutting feed rate: 1 ~ 10000mm
Manual feed rate: 0 ~ 6000mm
Minimum setting and moving unit: 0.001mm
Ball screw (diameter × pitch) ∮40 × 12mm
4. Automatic tool change
Automatic tool change mode: manipulator tool change
Tool selection method: two-way arbitrary tool magazine
Capacity: 24
Maximum tool length: 200mm
Maximum tool weight: 7kg
Tool type: 7:24 BT-40
Maximum tool diameter: φ160 (without adjacent tool state)
Automatic tool change time (adjacent tool): 2.5s
5. Machine tool protection system
The machine tool protection device is safe, complete and reliable. It complies with GB15760-1995 "General Technology Spare Parts for the Safety Protection of Metal Cutting Machine Tools." Machine tool noise: conforms to the national standard <75db control cabinet cooling uses a cold heat exchanger to cool down, seal dust, and dust rating IP.
6. Pneumatic system
The pneumatic system is equipped with a three-point combination, pressure switch, solenoid valve, etc. to achieve pneumatic tool change, spindle blowing, pressure 6-8kg / cm2, flow rate 220L / min, can be connected to an air gun to clean the work area.
7. Lubrication system
The original Japanese river valley automatic lubrication device is used to perform forced lubrication on each sliding surface and ball screw. The oil injection interval and the amount of oil are adjustable. When the volume of the lubrication tank is 1.8-2.5 liters, the oil level is too low (oil shortage). Comes with alarm lubrication motor power 150W, system theory maximum pressure 5kg / cm2 lubricating oil selects T68 # rail lubricant.
8. Cooling system
Cooling system volume 240L high-pressure cooling water pump, motor power 1 / 2HP cutting cooling for universal nozzle spray coolant.
9. Electrical system
Comply with GB / T5226.1-1996 "Industrial machinery and electrical equipment Part 1: General technical conditions" standard the system has perfect and reliable interlocking, safety protection and fault self-diagnosis alarm function Equipped with RS232 standard communication interface, you can use computer floppy disk for program storage (corresponding software can be provided according to user requirements), and other systems can be selected according to user requirements.
10. Chip removal device
Standard integrated manual chip discharge port with large inclination, double chip discharge ports, chip receiving device above the water tank (choice of chip removal machine and iron chip handling vehicle).
11. Two/three color warning lights
Red light: display alarm Green light: program running Yellow light: display program end.
12. Machine power supply
Power supply voltage range: AC three-phase 380V ± 10% Power supply frequency: 50Hz Direct power supply must not have high-frequency equipment collinear Machine tool power capacity: 15KVA
13. Equipment normal use conditions
Ambient temperature: 0 ~ 40 ℃ Humidity: ≤85%
14. Equipment color
White on white
15. Other
The supplier has the right to make appropriate adjustments to the equipment related accessories brand, but the overall performance should not be lower than the original brand.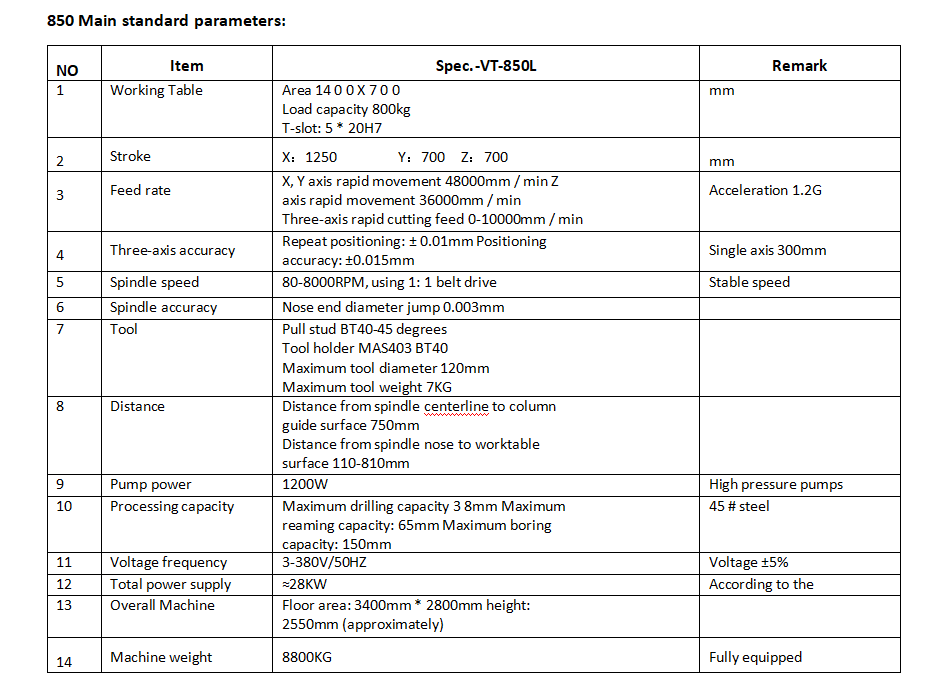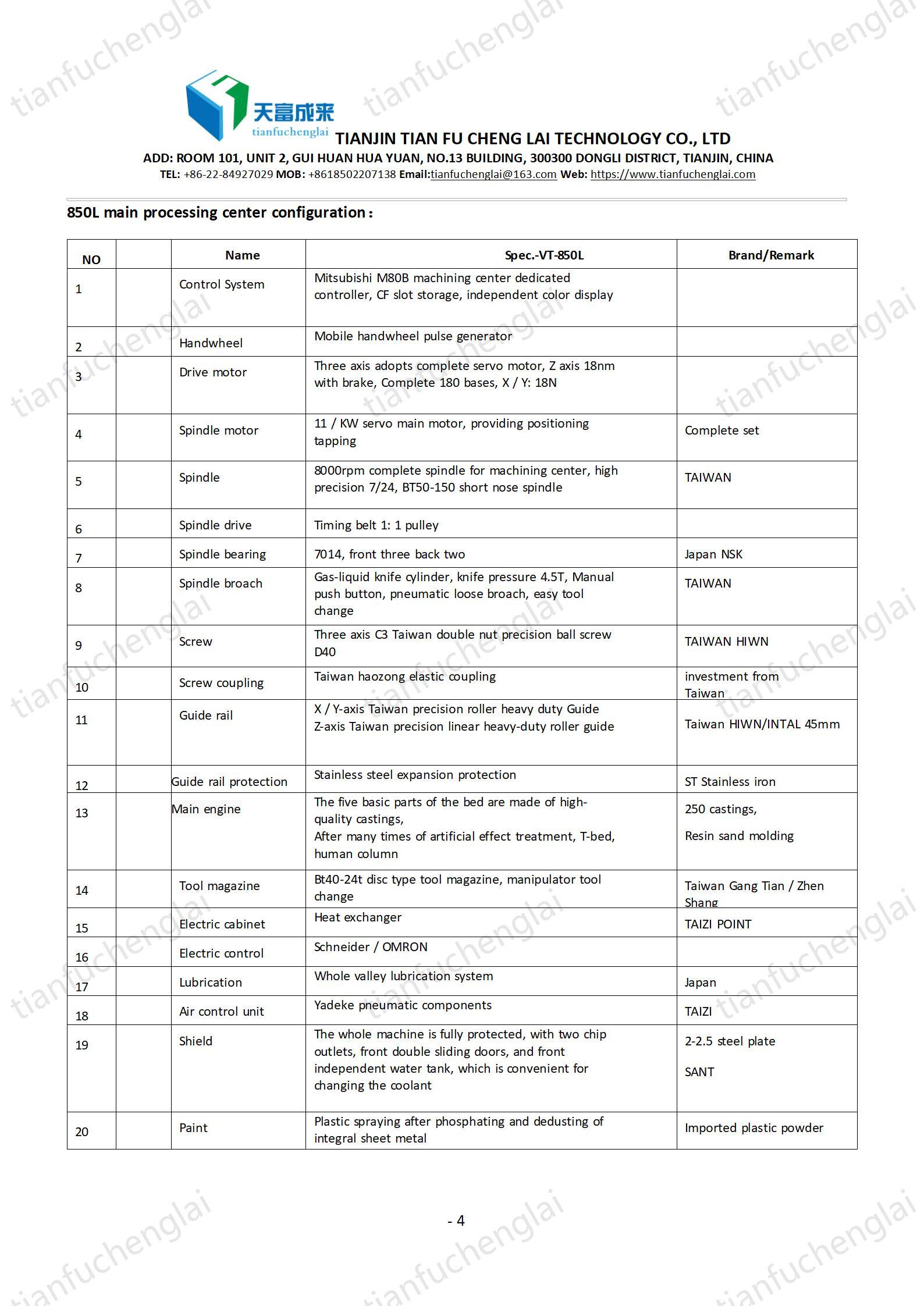 VMC1270 high-speed machining center


Your cart is currently empty.