YD1640-SF PRINTER Printing machine with factory price-Tianfuchenglai-67
Description
YD1640-SF PRINTER Printing machine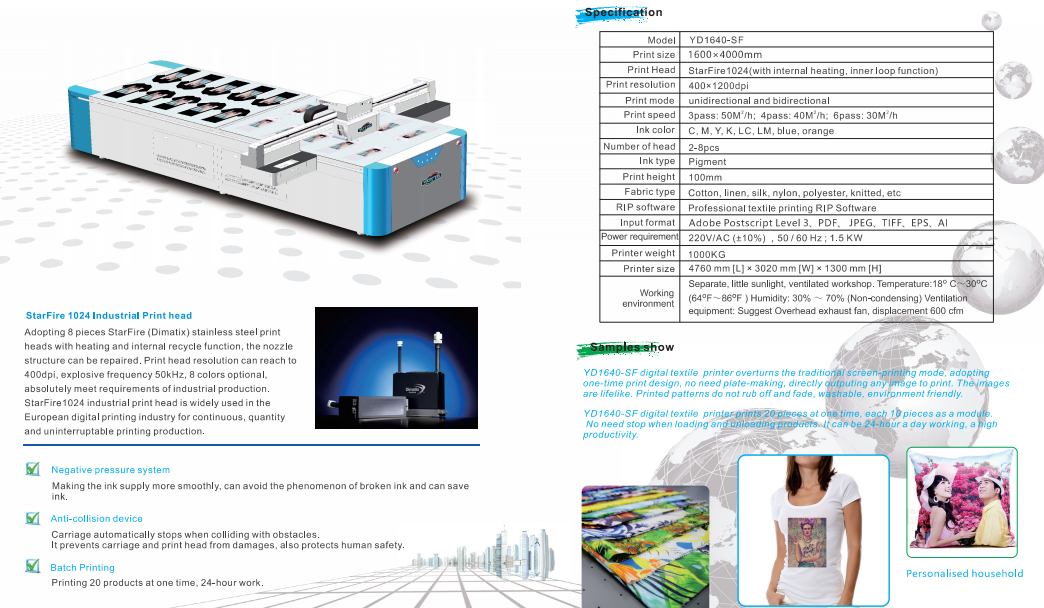 Specification
StarFire 1024 Industrial Print head
Adopting 8 pieces StarFire (Dimatix) stainless steel print heads with heating and internal recycle function, the nozzle structure can be repaired.Print head resolution can reach to 400dpi, explosive frequency 50kHz,8 colors optional。absolutely meet requirements of industrial production. StarFire1024 industrial print head is widely used in the European digital printing industry for continuous,quantity and uninterruptable printing production.
Negative prossure system
Making the ink supply more smoothly,can avoid the phenomenon of broken ink and can save inK.
Anti-collision devico
Carriage automatically stops when colliding with obstacles.
It prevents carrlage and print head from damages,also protects human safety. Batch Printing 霞
YD1640-SF 1600×4000mm
Model Print size
StarFire1024(with internal heating,innerloop function)
Print Head Print resolution
400×1200dpi
Print mode Print speed
ctional and bidirectional
3pass;50M/h: 4pass; 40M'/h:6pass:30M/h
Ink color
C,M,Y,K,LC,LM,blue,orange
Number of head
2-8pcs Pigment 100mm
Ink type Print height
Cotton, Iinen silk.nylon.polyoster,knitted,etc
Fabric type
Professional textile printing RIP Software
RIP software
Adobe Postscript Level3、PDF、JPEG、TIFF、EPS、Al
Input format
220VIAC(±10%),50160 Hz;1.5KW
Power requirement Printer weight
100KG
4760 mm[L]×3020 mm[W]×1300 mm [H]
Printer size
Separate, litle sunlight, ventilated workshop.Temperature:18°C-30℃℃
Working
(64°F~86°F》 Humidity; 30%。~70%(Non-condensing)Ventilation
environment
equipment: Suggest Overhead exhaust fan, displacerment 600 cfm
-Samplesshow
YD1640-SF digital textile printer overturns the traditioricreenojing mode,adopting one-time print design.no need piete-making. directly duiiutine anyJge to print. Theyriag are lifelike.Printed patterns do not rub off and fade,wasiable.envipr
YD1640-SF digital textilo prptaseiQa No need stop when loading productivity.
-household
Printing 20products atone time,24-hourwork.

Your cart is currently empty.