Fully Automatic Pulp Molding Production line-NY5000 with factory price-Tianfuchenglai-73
Description
Fully Automatic Pulp Molding Production line

Egg tray production machine line

(1)Pulp making system
Vertical Hydra Pulper ZJ050-55
Volume: 3.2m3;
Power: 55kw;
Capacity: 350~400kg/h;
Material code: Q235 and CAST IRON
Impeller knife -CAST IRON
Dielectric Consistence: 5%~7%. 1set
Operation platform ZJOP-04
Mach for the hydra pulper.
For operation of the hydra pulper. 1set
Paper conveyer SP020-7310
Supply material to the hydra pulper automatically.
Power: 1.5KW
Width of belt: 1.0m; Length:7.3m. 1set
Pulp filter PF20-55
For separating impurity from the pulp.
Working area: 2m2;
Power: 5.5kw.
Include pulp feeding tank, filter Screen, Vibration system, motor 1set
Pulp pool agitator ZB011-22
For Mixing the pulp in the pool, and keep consistence of the pulp steady.
Include reducer (2.2kw) and agitator.
Material of the lamina is stainless steel.
Agitating diameter:1500mm 2sets
Electric control system for the pulp making system EC-PM5000
Regulated whole process of pulp supplying system (include material supplying, pulping, pulp mixing, consistence control, pulp delivering). To send applicative pulp to forming machine automatically.
Control the hydra pulper, pulp pump, water pump, Pulp pool agitators…
The main electronic parts brand: Siemens and LG/LS; 1set
(2)Forming system
Automatic rotary forming machine CZ050-5000
Rotary type, 8 sides of mould plate. Each side is 2000*470mm. Each side fits for 5 sets of egg tray mould.
Products be outputted and delivered into the dryer automatically.
Computers monitor the entire process and centrally manage the production. counting and alarming automatically.
Advanced machinery allocation and transmission system.
Original brake system and drive mechanism, making the machine more stable.
Capacity for 30-packed egg tray: 5000pcs per hour.
With pre-heating air at the top of machine.
With auto mold washing and edge washing system.
The pulp tank is made from SUS304 stainless steel, which is corrosion resistance.
Frequency control of motor speed.
PLC and touch screen controlled.
Main electrical elements are Siemens.
Main Pneumatic parts brand: SMC/ARK. 1set
Working platform CZOP-R5000
Match for the forming machine;
For operating the forming machine and the product inlet of the dryer. 1set
Forming mold For 30 packed egg tray: 1pcs/mould
Material is aluminum or PC. 40sets
Transfer mold For 30 packed egg tray: 1pcs/mould
Material is aluminum 5sets
Vacuum and auto drain system VD50-15-2
Control the vacuum air/water separation and water drain/recycle automatically.
Include control valves, check valves, magnetic valves, inductor, vacuum container(5m3), water discharge container(2x1m3), and other parts 1set
Control system for forming/vacuum/ drying system EC-VS5000
Regulated forming machine, vacuum system, drying system and auxiliary systems automatically.
PLC + touch screen control.
Include 3 electrical control cabinets and control boxes.
The main electronic parts brand is Siemens and LG/LS; 1set
(3)Drying system
Drying product line (use gas or diesel) Type: HG050-Q/Y
Single layer;
Width of Conveyor:2.0m;
Total length: 48m;
Power installation:58.2KW;
Capacity for 30-egg tray(65~70g): 5000pcs per hour;
Heating method: diesel or Natural gas/LPG heating;
With furnace and automatic burner: brand RIELLO from Italy.
Working temperature:180~220℃
Conveyor speed: 2.5~5m/min adjustable.
The main electronic parts brand: Siemens and LG/LS; 1set
Operation platform and moveable ladder For operating, inspection and maintain the burner and other drying equipment;
Include working platform, handrail, trolley for burner, moveable stairs… 1set
Electric control cabinet For controlling the dryer;
To control the conveyor system, circulating fan, moisture exhausting fan, burner, and temperature of the oven automatically;
Include electric wire from the control cabinet to every part of the dryer;
Main electronic parts brand is Siemens and LG/LS 1set
Egg tray stacker SL050;
5 lines; stack the egg tray automatically;
Include auto counter. 1set
Egg tray compress & strapping machine EYJ-2;
Double position;
Include presser and strap, for Compress and strap the egg tray. 1set
1. Auxiliary Equipments' List
The following equipment is necessary for the production, customer could buy it from our company or other supplier.
The list is based on design with under-ground tanks, if adopting the above-ground tanks, the pulp pump and water pump would be increased.
No. Description Type and specifications Quantity Remark
1 Pulp pump Flow capacity:110m3/h;
Lifting height: 9m.
Suction height:2.5m;
Dielectric Consistence: 4%~6%.
Power:5.5kw; 1set
2 Pulp pump Flow capacity:60m3/h;
Lifting height: 12m.
Suction height:2.5m;
Dielectric Consistence: 1%~6%.
Power:4kw; 1set
3 Automatic consistence control Control the consistence of pulp supply automatically. Include inductor, controller, valves…
Consistence:0.6%~2% 1set
4 Water pump Flow capacity:60m3/h;
Lifting height:8m;
Power:3kw; 1set
5 High press water pump Use for mould washing and edge washing
Flow capacity:8m3/h;
Lifting height:30~40m;
Power: 1.5kw 2sets
6 Water ring vacuum pump Pressure: -0.08MPa,
Output Capacity: 63m3/min;
Power: 90kw. 1set
7 Water pump Flow capacity:18m3/h;
Lifting height:8m;
Power:1.5kw; 1set
8 Cooling Tower used to cool the vacuum sealing water.
Flow: 30m3/h;
Power installation: 0.4kw; 1set
9 Air compressor Capacity:8m3/min;
Output peressor:0.8MPa
Power:45kw; 1set
10 Compressed air dryer For reducing the temperature and moisture of the compressed air.
Capacity:8.5m3/min;
Power:2kw 1set
11 Compressed Air pot volume: 2m3
Max pressure: 1.0MPa. 2sets
12 Air filter Q, P, S 3pcs
13 Spare parts for air compressor For one year replace of air compressor;
Include cooling oil, filter element, oil separator, oil filter… 1set
14 Spot welding machine For molding repair.
Working current: 0~30A adjustable. 1set
15 Piping, valves, fittings needed for link the machines in the workshop 1set
1.Main technical data NO. Item Information Notes 1 Automation Fully automatic production line. 2 Capacity 4500~5000pcs per hour 30 packed egg tray (65~70g) 3 Workshop recommendation >=800m2 Length>=60m; width>=12m; height>=4.5m; (It could be adjusted according to the user's existing workshop) 4 Type of Material Waster paper News paper; corrugated paper; 5 Material consumption 300~350kg per hour 6 Water consumption 1.2~1.5ton/h 7 Electricity consumption 200~220kw 291kw installed  8 Fuel consumption LPG 32~40M3/h Choose one from the three types of fuel Or natural gas 80~115 M3/h Or diesel 65~95kg/h 9 Operator Required 5~6 people/shift 10 Container requirement for Transport 8 of 40'HQ container
Brief introduction of the production line It's a complete set of Fully Automatic Production Line. Mainly used for the products with simple structure but in big quantity, such as egg trays, fruit trays, cup carriers and disposable medical care products. This type of production line is constituted by a hydra pulper system, a rotary type forming machine, a single-layer drying line, and corollary equipments. Products are output automatically from waster paper or other type of paper. It's high-efficiency, energy-saving, durable, wieldy and safe. SIEMENS electrical control parts, FESTO & SMC pneumatic control parts. Apply International famous brand of control parts to obtain excellent performance and universality maintainability.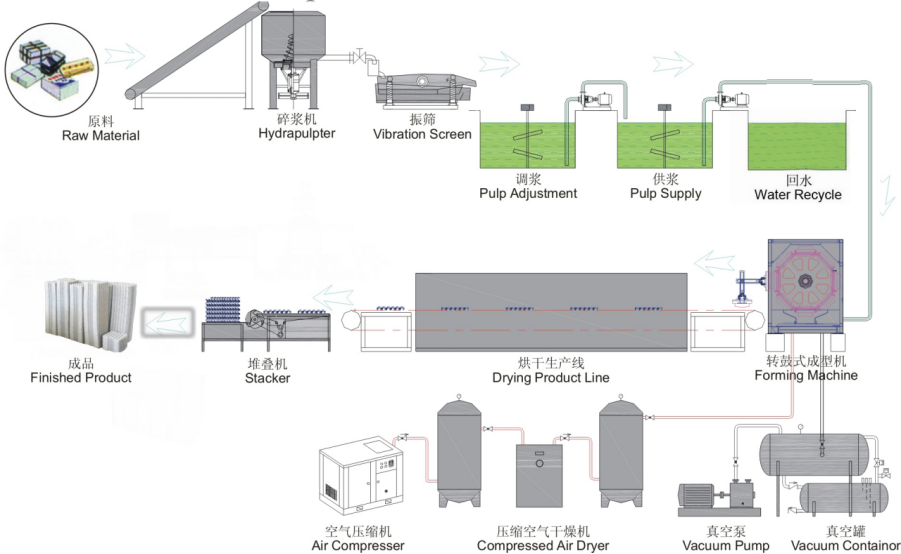 Your cart is currently empty.