2600mm Corrugated sheet carton board Semi-auto 4 colors printer grooving machine with lead edge-Tianfuchenglai-34
Description
2600mm Corrugated sheet carton board Semi-auto 4 colors printer grooving machine with lead edge
Semi-auto 4 colors printer grooving machine with lead edge

Machine parameters: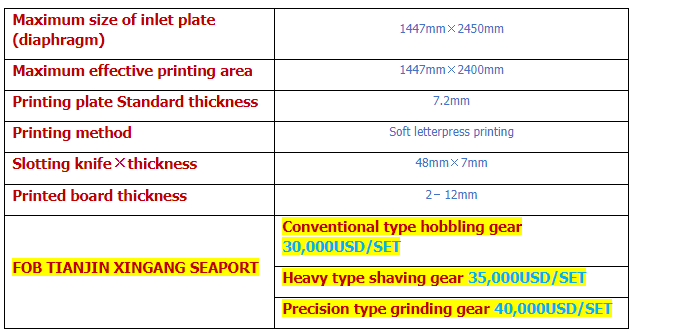 Maximum size of inlet plate (diaphragm) 1447mm×2450mm
Maximum effective printing area 1447mm×2400mm
Printing plate Standard thickness 7.2mm
Printing method Soft letterpress printing
Slotting knife×thickness 48mm×7mm
Printed board thickness 2-12mm
4 colors printer grooving machine
Configuration introduction and comparison
Electric clutch unit, pneumatic lock
Pneumatic inking, machine stops do not stop ink
Printing roller with plate hanging device
Start frequency converter
480mm Rotary gear milling material
Accurate processing of chrome drive roller and shaft
220 mesh roller optional metal or ceramic anilox
Position of both sides of the worktable
The wall thickness is 50mm
High quality castings walking track
Mechanical phase, manual synchronous cutter
Item No.
Common semi-automatic
Configuration introduction and comparison
Electric clutch unit, pneumatic lock
Pneumatic inking, machine stops do not stop ink
Printing roller with plate hanging device
Start frequency converter
480mm Rotary gear milling material
Accurate processing of chrome drive roller and shaft
220 mesh roller optional metal or ceramic anilox
Position of both sides of the worktable
The wall thickness is 50mm
High quality castings walking track
Mechanical phase, manual synchronous cutter
1. Semi-automatic chain paper feeding, bilateral file positioning, to ensure the accuracy of paper feeding.
Machine uses and features:
2. CAD module design can be any combination of single color printing machine.
3. Various units of electric sub assembly, pneumatic locking, relaxation. Alarm ring and light to ensure the safety.
4. When the machine stop, the anilox roller automatically from the plate, and the plate is not damaged.
5. Self-suction inking device, can control alone roller automatic idling circulation of ink separately, being dried, automatic cleaning roller.
6. All transmission rollers and shafts are machined and hard chrome plated.
7. The printing plate roller by hanging device, axial rapid adjustment, the paste version of more accurate, more time-saving and labor-saving.
8. The round section of the plate roller adopts a fast phase 360°adjustment, and the slotted electric phase adjustment is adopted to improve the working efficiency.
9. With automatic counting device, accurate control of production.
10. The pressure roller catching paper roller adopt satellite pushing, gear gapless, with high accuracy.

Your cart is currently empty.