Multifunctional hardware glasses industrial cleaning and drying equipment machine-Tianfuchenglai-16-7
Description
Multifunctional hardware glasses industrial cleaning and drying equipment machine
The cleaning and drying machine is a kind of automatic cleaning equipment specially designed for stainless steel sink to remove oil and wax after stretching and polishing. It uses high-pressure spray combined with ultrasonic cleaning to clean all sides of stainless steel sink without dead angle. It can also increase drying process according to customers' needs. Our company has more than 10 years of experience in the research and development, design and production of stainless steel tank oil and wax remover. We have reached cooperation with 30 + powerful manufacturers in the water tank industry, with more than 300 actual equipment design and production experience. The process and production process of oil and wax washing in the sink are completely clear and clear. According to the actual needs of customers, the sink cleaning equipment can be designed as the most cost-effective and efficient energy-saving one-to-one.
No. Name Parameters and description
1 The power supply voltage 380V±10% 50HZ
2 The loading height 950mm from the ground
3 The conveyor belt conveying speed V=0.3~3m/min(Continuously adjustable)
4 The bearing capacity of conveyor belt ≥200kg/m²
5 Size of inlet and outlet of cleaning machine W:1000mm, H: 200mm
6 Cleaning pressure, rinsing pressure P=30Kpa
7 Cleaning and rinsing flow Approx. 30m³/h
8 Cleaning and rinsing tank volume Approx. 2m³
9 Electric power of cleaning and rinsing liquid 24KW(Optional)
10 Cleaning and rinsing tank temperature Room temperature to 80℃, temperature digital display, automatic adjustable
11 The cleaning liquid filtration accuracy The first level≤1.2mm; second level ≤0 .8mm
12 The rinsing liquid filtration accuracy The first level ≤1.2m; second level≤0.8mm
13 Cleaning and rinsing pump power Each 10kw, total power 10×5=50kw
14 High pressure air consumption Q=2.0 m³/min power: 7.5kw
15 Hot air volume NO
16 Hot air temperature NO
17 Fog exhaust fan flow Q=0.5m³/min
18 The whole power N≤60kw(Not including heating)
19 The size of the equipment (the host) Approximately L16m×W1.6m×H1.4m(Including feeding and unloading)
The main technical parameters and the relevant conditions and instructions: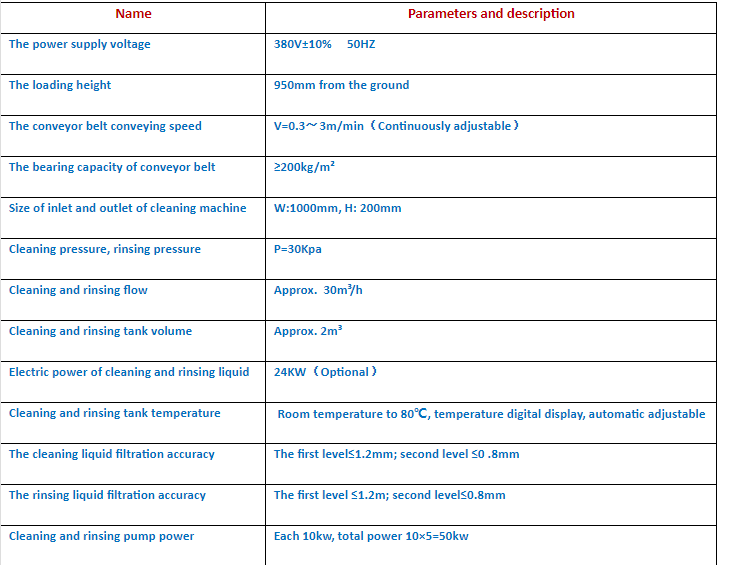 Your cart is currently empty.