LHB-450 Fully Automatic Roll-fed Square Bottom Paper Bag Making Machine -Tianfuchenglai-25
Description
LHB-450 Fully Automatic Roll-fed Square Bottom Paper Bag MachineLHB-450 Fully Automatic Roll-fed Square Bottom Paper Bag MachineLHB-450 Fully Automatic Roll-fed Square Bottom Paper Bag Making Machine
High Speed Square Bottom Kraft Paper Bag Machine
Features:
1. Touch screen is adopted for input control and machine status display, so as to finish machine
correction easily.
2. Equipped with originally imported SIEMENS electrical system and servo motor drive, to make the
machine run steadily.
3. Germany SICK photoelectric detector is used to track the material to be printed, reduce the
adjusting time and improve production efficiency
4. Separate single-station unwinding rollstand with hydraulic lifting device; Convex-type inflatable shaft
for loading material (or shaftless loading); Magnetic powder brake for unwinding and automatically
constant tension controller for unwinding tension control; EPC web guide control system for material
alignment; alarm function for reminding replacing material and stopping-machine device for
detecting material broken.
5. The handle making component is an independent machine, which is driven by servo motor and
synchronized with the main motor; handle length is adjustable according to bag size.
6. The cutting and gluing of paper handles are controlled by servo motors, as synchronous as the tub
cutting of the main machine; contact rollers transfer pattern is adopted in gluing paper handles;
vacuum suction pattern is adopted in transferring handles onto conveyer belt; handles are
compressed onto the paper web with a series of pneumatic rollers, to ensure the pasting strength.
7. Adjustable forming mould structure (side sealing is above the forming mould); automatic
glue-spraying device with automatic disengaging function is used for side gluing.
8. Rotary serrated cutter (or flat-blade cutter) with elliptical gears is used for cutting; the cutting length
can be corrected by SICK photoelectric detector; Multi-layers bottom forming drum, center grippers,
second tuck clamps, and drum grippers are adjustable for ease of changeover; automatic
disengaging function (bottom gluing is prevented for empty feeding to avoid contamination to the
surface of the drum).
9. Paper bags are delivered by belt, and collected at side workbench, which is easy for operations;
automatic counting function.
10. Automatic lubricating oil supply system.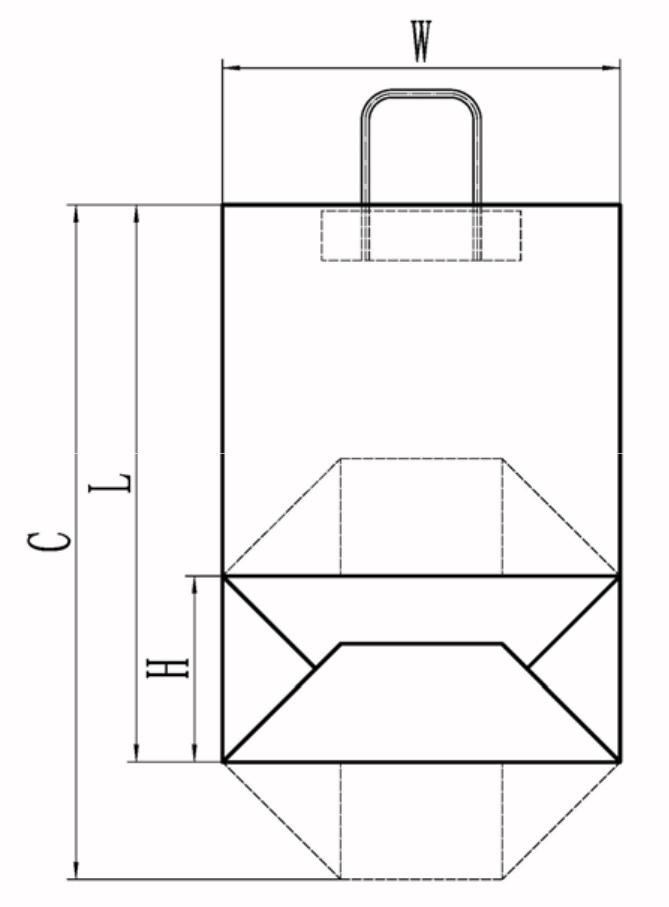 Main Technical Parameter:
Type LSB-450 (W)Bag Width 240-450 mm (H)Bottom Size 90-180 mm (C)Cutting Length 380-640 mm
Max. Speed 120 pcs/min
Paper Roll Width 700-1250 mm
Max. reel weight 800 Kg
Max.Roll Diametr 1200 mm
Reel inner diameter 76 mm
Paper specification 80-180 gsm
Handle Rope Height 100 mm
Handle Rope Diameter 4-6 mm
Handle Patch Length 190 mm
Handle Patch Width 40-50 mm
Paper Patch Roll Diameter 1200 mm
Paper Patch Roll Width 80-100 mm
Paper Patch Thickness 110-250 gsm
Web edge control system Double photoelectric automatic correction control system
Web tension control system Automatic constant tension control system
Air pressure ≥0.12 m³/min,0.6~1.2 Mpa ≥0.12cmm, 0.6~1.2Mpa
Square bottom paper bag machine with twisted handles inline


Your cart is currently empty.