Hydraulic press 400 ton stainless steel pot making machine deep drawing aluminum pot making Four columns hydraulic press YHL32-400T with factory price-Tianfuchenglai-2
Description
Hydraulic press machine-400 ton stainless steel pot making machine deep drawing aluminum pot
Four columns hydraulic press machine
400 ton stainless steel pot making machine deep drawing aluminum pot cookware forming machine


Model YHL32-400T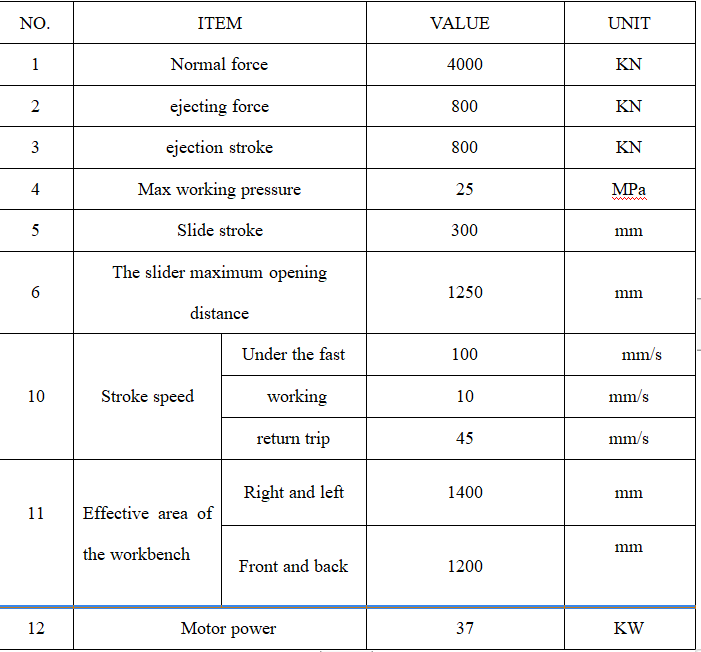 Model YHL32-400T
NO. ITEM VALUE UNIT
1 Normal force 4000 KN
2 ejecting force 800 KN
3 ejection stroke 800 KN
4 Max working pressure 25 MPa
5 Slide stroke 300 mm
6 The slider maximum opening distance 1250 mm
10 Stroke speed Under the fast 100 mm/s
working 10 mm/s
return trip 45 mm/s
11 Effective area of the workbench Right and left 1400 mm
Front and back 1200 mm
12 Motor power 37 KW
Main purchased-in parts:
No. Parts Factory Remark
1 PLC Mitsbishi Japan
2 Oil cylinder seals DZ Taiwan
3 Oil pump Yongjian China
4 reducer Taixing China
5 High pressure pump Yongming China
6 Ac contactor Siemens
7 Motor Xingyu China
8 Valve Taifeng China
9 automatic air circuit breaker Siemens
10 Thermorelay Siemens
11 Time relay Siemens
1.Hydraulic system:
1. Adopt integrated hydraulic control system, more reliable and easy for maintenance. The hydraulic system consists of motor, oil pump and valve groups and hydraulic Tank Built-in design. Hydraulic system is from Bosch,Germany.
2. Every complete working cycle can be achieved through the control of hydraulic valve.The remote adjustment valve can adjust the working pressure at the right side of the wall board.
3. All seals in cylinder is imported,the most famous brand,good quality and high performance.
4. Overload overflow protection is outfitted to hydraulic system,which can assure no leakage,and the oil level can be read or seen directly.
5. Hydraulic overload protection device achieving high sensitivity in effectively protection against overload, to ensure convenient and reliable operation. Being able to work under rated load continuously,stable working and high precision.
2.Presses control system:
1. The Presses which could realize three-operation mode: adjustment, manual and semi-automatic.
2. Selector switch modes of operation: jog (setup) and run (cycle).
3. Machine is with both hands button and foot switch control: anti-tie down, non-repeat controls with ring guards; conforms to OSHA.
4. PLC press control is flexible and safe. PLC controls allow for customized press cycles.
5. Adjustable proximity switches allows stroke adjustments in seconds.
6. All our electrical, hydraulic and mechanical parts are standard in the industry and available throughout North America and Europe.
3.Ram structure:
1. Guiding device: adopts four cylindrical location guiding to make sure of the steady precision, and it's easy to test and maintain.
2. Can move the ram up slowly,which allows the operator to control work piece conveniently.
3. Universal fixing-surface of the upper tool can be meeting with the clamping requirement of the tool farthest.
4.Electrical system and the safety interlock:
1. Electrical components are imported or from Sino-foreign joint Venture,in accordance with international standards,reliable safety,long life,good anti-interference ability,a radiation unit is fitted in electrical cabinet.
2.Protective fence and the safety interlock to ensure the operation safety. Have a movable single-hand pedal switch,easy to operate.
3.Emergency stops on machine and foot switch for safety and Fence like body guard is standard or light curtain is optional.
5.Standard features available on all 4 columns hydraulic Press:
1.Adjustable stroke control, Pressure regulator and gauge, allows to limit the ram pressure.
2.Pressure reversal switch .
3.Adjustable speed control allows operator to adjust ram pressing speed(Optional).
4.Ram travel is guided by 4 precision-ground chromed rods(Optional).
5.Jog mode used for simplifying setups.
Technical parameter of the electric system:
1)power supply voltage: 3-phase 380V AC±10%
frequency: 50HZ±1HZ
2)working locality temperature -20— +50℃
Humidity 20—85%
elevation above sea level <1000m
3)level of protection Electric control cabinet IP43

Your cart is currently empty.