Automatic Painting Liquid Spray Line with Curing Oven Conveying tunnel drying oven-RL-3000H1-Tianfuchenglai-11
Description
High temperature curing oven equipment system used in electrical gas non-stick pan pot cookware

Curing Oven Conveying tunnel drying oven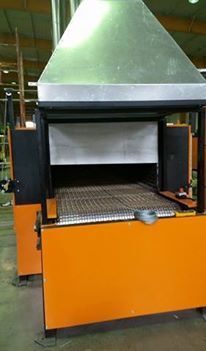 Automatic Painting Liquid Spray Line with Curing Oven Conveying tunnel drying oven
No. System Main
configuration Quantity Remark:
1 Dimension Approx.1500(L)X600(W)X1100(H)mm
2 Machine Body Outer door plate 1Set 1.0mm cold rolled steel plate bending (or customer optional).
3 Frame 1Set At the bottom of the 5# square tube +50X50 square tube +50X2 angle iron,
Iron square tube through painting or antirust processing paint.
4 Feeding
Unloading 1Set
1Set The feeding zone length of 2 meters.
The unloading zone length of 2 meters.
5 Drying Oven Inner furnace size 1500(L)X500(W)X600(H)mm
The furnace body is equipped with two suction holes
Inner plate 1Set 1.0mm galvanized sheet forming and welding
Inner bulkhead 1.0mm galvanized sheet forming and welding
Thermal insulation
layer 1Set 100mm Thick asbestos insulation, good thermal insulation
Heating system 1Sey Heating mode of 1 set of engine combustion using 30W kcal natural gas.
Heating mode The top fan heating, hot air cycle
Temperature control
system 1Set Japan "OMRON" digital temperature control, adjustable temperature
6 Air transportation
system Air transportation
motor 1Set Taiwan "Min Dong" 3.7 fan, excellent performance, wind is constant
Air transportation
system 1Set Taiwan "Min Dong" 2HP Standard "Cage" type fan system, a uniform and reliable wind.
Fog absorbing
system 2Sets Composed of the upper hood exhaust pipe and the air outlet
This machine is installed 2 exhaust fog suction.
7 Cooling system Cooling fan 1Set The Guangzhou YuTong 1.5KW wind turbine
8 Conveying system Conveying motor 1 Set Ground rail type transmission line: Front spraying, front drying,
opposite side spraying, opposite side drying; sharing 1 set ground rail transit line.
Basic technical parameters: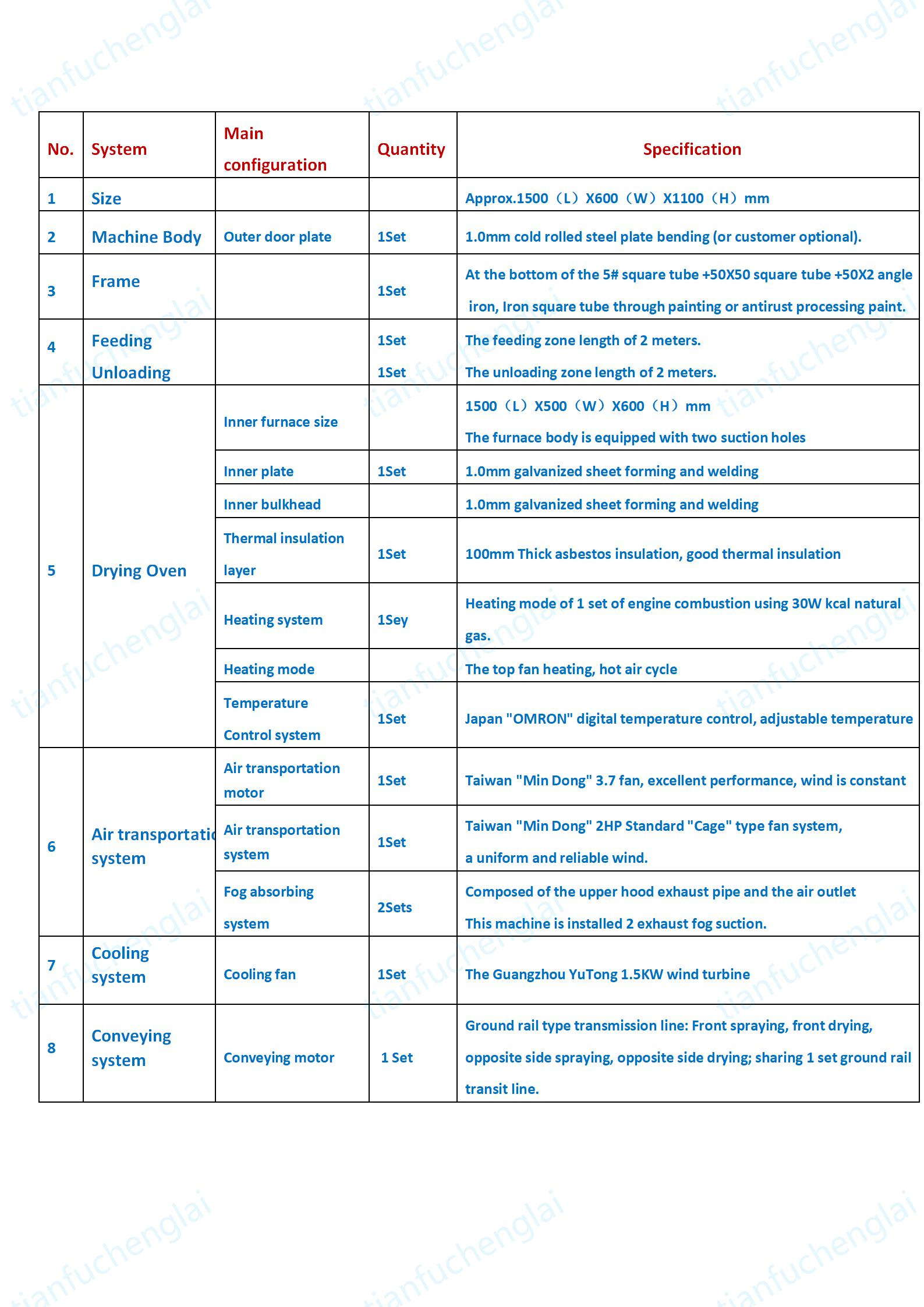 6. Main technical requirements of equipment:
6.1 Structure composition:
The machine is composed of a machine body chamber, circulating system, heating system, conveying chain and transmission system, electric control system and a control system.
6.2 device description
The device is a tunnel through the chain belt type drying equipment, using a special chain transmission workpiece with drying function of novel continuous drying equipment. The workpiece is placed on the transmission chain net belt by hand, and then discharged through the drying process. The mist in the upper cover is taken out of the suction fan after being sucked out to the total exhaust pipe. This machine, full function, reasonable structure, convenient operation, has the advantages of good drying effect, which improve the quality of drying, to improve the working environment, and is of great significance, safety, environmental protection and energy saving, low labor intensity, manual feed, automatic drying. Body structure using sealed, beautiful appearance. Easy disassembly and maintenance. Details of the structure are shown in the drawings and the following.
6.3 Main technical requirements of equipment:
6.3.1 The first feeding section 2 meters.
6.3.2 The second-high temperature tunnel drying oven (20 m):
Application: Drying the workpiece after spraying.
Effective size of drying chamber:(L)20m×(W)1.5m×(H)600mm
Material: Using SUS304L (1.0mm) stainless steel plate.
Temperature control range: Oven room~180℃.
Heat resistant fan power: 3.7 Fan 2 Sets.
Heating system: using natural gas as combustion machine heating system; total 2 sets.
6.3.3 Third cooling section 2 meters.
Use 1mx1m industrial cooling fan 6 sets.
6.3.4 The fourth feeding period of 3 meters
7. The equipment function description:
7.1. Drying zone:
The equipment is set up 20m of the curing area; heating mode using natural gas heating system, the temperature at room temperature - 500℃ can be adjusted; set up insulation, exhaust, temperature control system, so that the device can be adjusted temperature. When the workpiece in the feeding area into the drying zone, with the speed of 0.3-3m/min drying, the workpiece to the set temperature drying. A wind and exhaust system is arranged on the drying furnace, so that the workpiece is uniformly heated in the system, and the exhaust water mist is drawn out to avoid polluting the workshop environment
8. Approximately the use cost of equipment:
8.1 Average hourly power consumption: 30KW
(power price by local price)
8.2 Other maintenance mechanical and electronic components:
About 200USD a year.
Curing Oven Conveying tunnel drying oven


Your cart is currently empty.