Color coated steel tile press making machine 840Type with factory price-Tianfuchenglai-77-1
Description
Color steel tile compactor parameters-840Type
Tile Press Roll Forming Machine
Color coated steel tile press making machine

Advantages of this production line:
● Low operation and maintenance costs ● High accuracy of finished products
● Stable machining operation ● Low energy consumption
Technical parameters of production line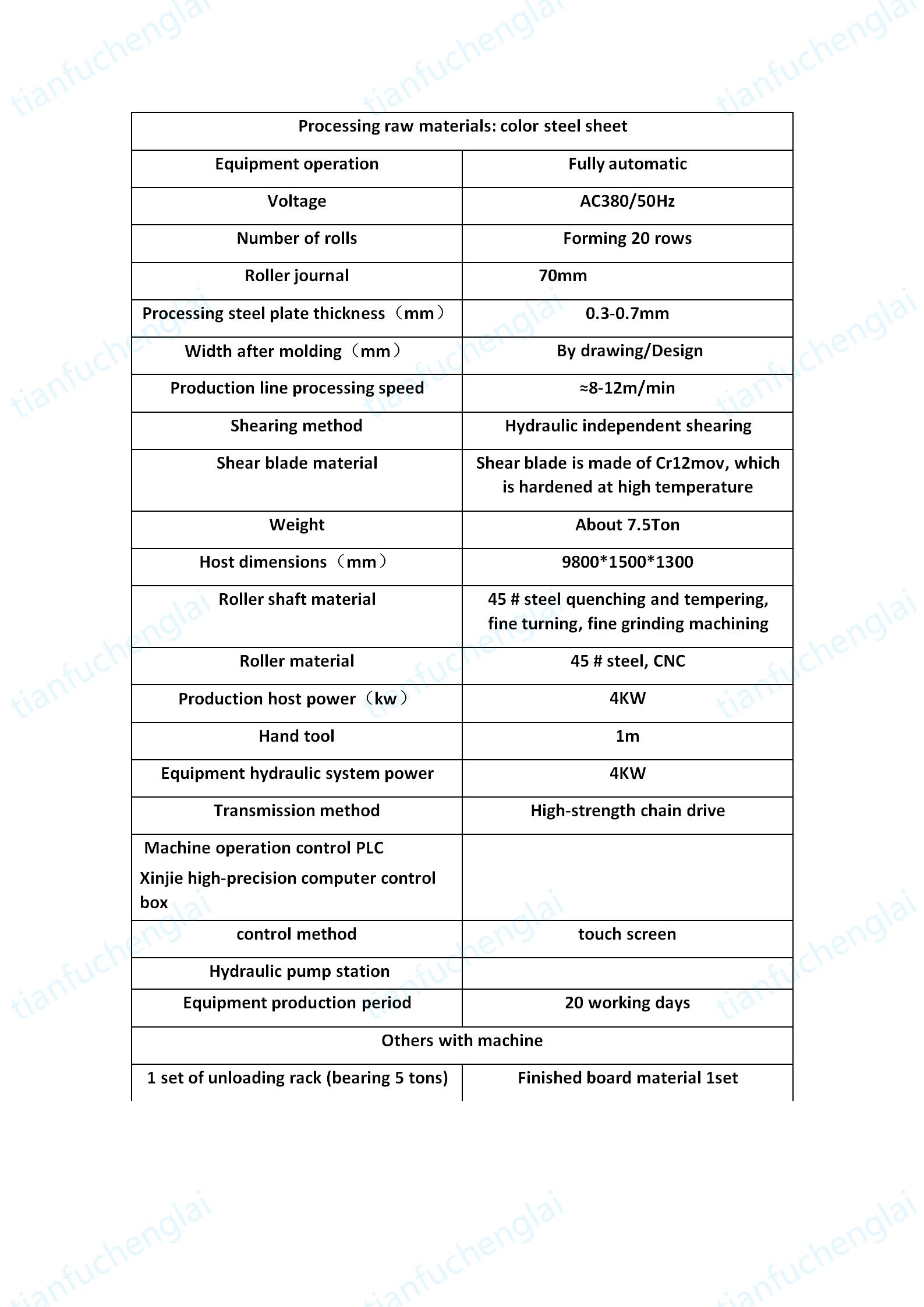 border="0" cellspacing="0" cellpadding="0"> border="0" cellspacing="0" cellpadding="0">
border="0" cellspacing="0" cellpadding="0">
Production line composition
• Raw steel coil unwinder
• Raw material introduction platform
• Steel plate forming host
• Hydraulic system
• Production line computer automatic control system
• High-precision automatic measuring length system
• Protective cover of transmission system
• finished product receiving table
Site and personnel required for molding machine
1. The ground fixing method of the molding machine:
(1) Level ground
(2) Required lifting mechanism (not less than 5t, you can choose forklift or crane)
(3) Provide space for storing raw materials (4--5 different colors, according to customer needs)
(4) Provide space for finished products
(5 provide access roads for vehicles
(6) The space for finished products must be at least: 25m * 3m
Order method:
The buyer shall pay 30% of the total industrial product purchase contract within 7 days after signing the contract. After the production is completed, we will inspect the machine and notify the buyer. The buyer will send someone to inspect the goods. If the goods are not inspected and accepted at the factory, our company will be responsible for providing the machine's running video and photos to the buyer to ensure that the machine runs well. Then arrange the shipment according to the terms of the contract.
After-sales service: The production line is free of maintenance for 12 months. When the machine is used in China, we will install and debug the machine for free; if it is used abroad, we will send professional technicians to debug abroad. The buyer is responsible for all costs of the technicians working abroad.

Your cart is currently empty.