Competitive price for Automatic conveyor sandblasting machine from Chinese factory supply with factory price-Tianfuchenglai-3-2
Description
Automatic conveyor sandblasting machine
Sandblasting machine
I. Application
According to the characteristics of products which the customers with specially designed belt conveyor automatic sandblasting machine, sandblasting surface is used for cookware utensils and appliances, can remove combination, flow lines and die marks,etc; Otherwise it can satisfy deburring, oxide skin, surface finishing, electroplating or spray pretreatment and other technical requirements.
II. The main technical parameters
1. Cleaning products
(1)Width 1150mm
(2)Height 250mm
(3)Length 2000mm
2. Conveyor system
(1)Working speed 0.3-5m/min(Frequency adjustment)
(2)Power 1.5kw×1set
(3)Speed ratio 1:100
(4)Transmission v belt B-Type(6600mm*L)
3. Spray gun
(1)Model DS-B (2)Abrasive shot speed 75-100m/s
(3)Nozzle diameter φ8mm*80 (4)Pressure 3-8barr
(5)Number of guns 12pcs (6)Swing speed 10-94times(Frequency adjustment)
(7) Power 400W (8)Speed ratio 1:15
4. Segregator
(1) Separation volume 5t/h (2) Separation zone wind speed 4-5m/s
5. Dust removal system(1Set)
(1) Dust collector
a、Model 1212-4
b、Air volume 2504m3/h
c、Core φ320*660
(2) Centrifugal fan
a、Model 9-19Type,A type transmission b、Air volume 2504m3/h
c、Wind pressure of work 4112MPa d、Power 7.5kw
6. Full engine power: 11kw
7. Total air rate volume 2504m3/h
8. Overall machine dimension
(1) Max overall dimension: 4100mm×1600mm×3100mm
III. Structural adjustment and adjustment installation
This machine is a high-performance V-belt conveyor sandblasting cleaning equipment, in the process of cleaning by motor drive worm gear and worm reducer, Towing V-belt conveyor system to the work piece to clean room, and spraying by a all-around of 12 guns, making their oxidation scales and dust's away quickly, obtaining with certain roughness of the bright surface, at the same time work piece is suffered from strong impact, eliminated the stress of work piece, to avoid deformation. During the cleaning process, falling mixture of dust scattered is collected directly by the set of sand bucket, by the dust removal fan suck in suction separator, after the dust separator was separated,abrasive sand goes to the storage tank,dust is driven by fans, through the air duct pipe system, and with filters precipitator dust, efficiency can reach 99%, after purification, the air emissions into the air.
This device has the following several parts: Sandblasting main engine, Belt conveyor system, Segregator, Dust removal system, Electrical Control System.
1. Sandblasting main engine
(1) Structure principle
The master consists of three parts cleaning room, inlet room, and discharge room.
A、Clean room is installed 12 spray guns, this space structure is passed CAD test and actual verification, can achieve best to clean up the work piece.
B、Cleaning room is semi-enclosed, equipped with steel and rubber curtain shield to prevent abrasive flying, while room has some negative pressure to prevent the escape of dust.
C、Cleaning room is equipped with rubber inside body, protect the chamber wall plate from wear and tear, extending the service life; In the cleaning of cone set sand bucket is equipped with the network, to block sundries, protect the nozzle, easy to repair.
(2) Adjust the application and maintenance
A、Cleaning room protection room and package cast nuts are wearing parts. Must check the degree of wear and change in time, pay attention to install guard plates lap joint, to prevent damage to the wall and endanger safety.
B、Cleaning room rubber curtain are wearing parts should be replaced if damaged.
C、Must cut off the power for maintenance, listing alerts, non-powered operation, and offenders will be could endanger life safety.
Automatic Sandblasting
The operator put or fix the workpiece on the conveyor belt,when the workpiece is transported into the sandblasting chamber,the
blasting guns automatically swinging and blasting,ensures the products is blasted entirely.The the workpiece pass through the
clean room for cleaning,finally comes out from the other side of the conveyor to be discharged.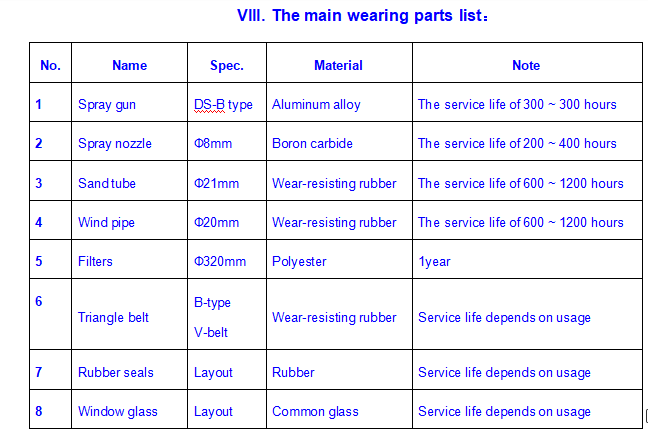 Your cart is currently empty.