Blasting machine-Automatic Consecutive Turntable Sandblasting Machine with 16 spray nozzles for casting products surface cleaning treatment with factory price Tianfuchenglai-4-3
Description
Automatic Consecutive Turntable Sandblasting Machine
Blasting machine-Automatic Consecutive Turntable Sandblasting Machine with 16 spray nozzles for casting products surface cleaning treatment


Equipment supply list:
I. Main parts of sandblasting machine, 1 set
1. Sandblasting cabin body, 1 set
2. Protective rubber sheet, 1 group
3. Lights, 2 sets
4. Sandblast tank access door, 4 pieces
5. Belt tensioning mechanism, 1 set
6. Belt tension adjustment, 1 set
7. Filter sieve, 2 pieces
8. The big/small turntable mechanism, 1set
9. Gun swing mechanism V-type spray gun 12 pieces, 1 set
10. Surface blowing air gun, 1group
II. Cyclone Separator,1 item
1. Regulator, 1 piece
2. Sand back tube, 1 set
3. Separator assembly, 1 set
III. Dust box, 1 set
1. Dust box body, 1 set
2. Cloth bag, 64 pieces
3. Pneumatic cleaning valves, 1set
4. Dust removal machine, 1 set
5. Dust - collecting bucket 1 set
I. Electric, gas control system
1. Electric control box Contains control elements 1 set
2. Control panel 1 set
3. Sub-cylinder 1 set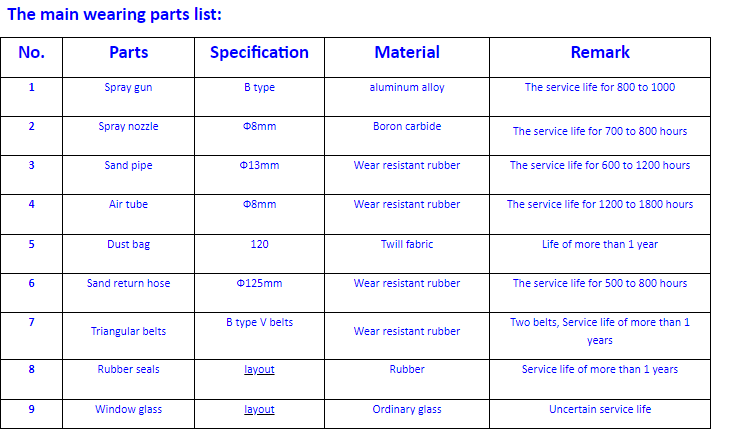 Schedule (main technical parameters)
Equipment Name: 1921-12 automatic turntable sandblasting machine
Power requirements: voltage 380V frequency 50-60HZ
Machine size: 1900mm (length) × 2100mm (width) × 2800mm (height)
Environmental requirements: ≤ 85 dB noise (db), emissions 1.0mg / m
Sandblasting area size: 1500mm (length) × 800mm (width) × 850mm (high)
The largest work piece processing Dimension: Φ450X250mm
Scope: metal or non-metallic work piece surface cleaning and processing
Maximum load capacity: 20kg (small turntable)
Maximum load: 240kg (large turntable)
The size of the work piece access door: diameter φ400mm, height 450mm;
Work piece sandblasting work piece spacing distance: 60-80 mm
Nozzle size: diameter 8mm (boron carbide) turntable: ¢ 360mm
Sandblasting pressure: adjustable gun: aluminum alloy
Number of spray guns: 1 pc
Blasting tube: diameter 22mm air tube: 1.5
Pressure adjustment range: 0.2-0.8 (par) Air pressure stability: adjustable
Centrifugal fan: 7.5kw
Lighting and control system: 13Wx2 (energy-saving lamp explosion-proof type).
Large turntable drive motor: 1 set 1 • 1kw
Small turntable drive motor: 1 set 0.75kw
Gun swing drive motor: 1 set 0.75kw
Air consumption: 1m³ / min / each gun (when the pressure is 0.6Mpa)
Sandblasting efficiency: the actual efficiency needs to be based on specific parts and process requirements
Transmission: large turntable rotation, small turntable rotation
Rust grades: Sa2.5 ~ Sa3 (GB8923-1988)
24-280 # corundum abrasives (use other types of abrasive should pay attention to adjust the configuration)
Abrasive recovery method: pneumatic recycling Cyclone separation cycle
Cabin protection: the use of polyurethane board protection
Back to the sand tube: wear-resistant hose, flexible connection, easy to install
Sandblasting cabin with external manual blowing dust gun 1, mainly used for debugging, maintenance
Staffing: 1 person (with 1 person)
Installed power: about 11Kw (not including the required air compressor power)

Your cart is currently empty.